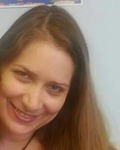 Divorce? Loss? Career Change? Family tension? Failure to Launch? Let Sarah Margolis help you renegotiate relationship rules and expectations to combat life's difficult transitions. We face obstacles every day, but some days are more challenging than others. Sarah is skilled at using Solution-Focused and Narrative therapies, complemented by a Gottman-driven relational approach. She specializes in helping clients make life more 'livable." Sarah has extensive experience working with individuals, couples and families. She will help you improve the quality of your life.
Sarah specializes in life transitions, relationship issues, depression, anxiety, domestic violence and grief. She has provided strength-based therapy to hundreds of individuals and families across Broward County. She has earned degrees in Family and Child Development from Florida State University and Marriage and Family Therapy from Nova Southeastern University.
Empathy, humor and a systemic point of view help me guide my clients towards an improved quality of life. Through processing your unique story, let Sarah help you find solutions to build upon, that fit YOUR circumstance. She would love to help you start writing your exciting next chapter!
Please contact Sarah at 954-372-0788 or MargolisLMFT@gmail.com.